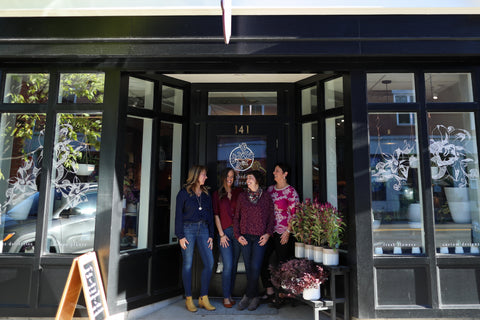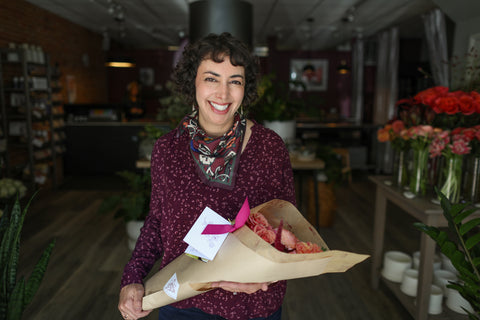 Jessica first became interested in floral design while studying abroad and interning with one of London's leading florists. After graduating from Cornell University with a degree in design, she worked for several major retail and event florists in the Chicago area. When she and her husband Mike decided to move to New England, they fell in love with the historic town of Exeter; Jessica opened Cymbidium Floral there in April 2005. Known for her striking color combinations & love of texture, Jessica's signature arrangements have a distinctive quality that make them uniquely beautiful. When not in the shop, Jessica can be found spending time with her husband and their kids, Cooper and Ella, gardening, or out walking around town.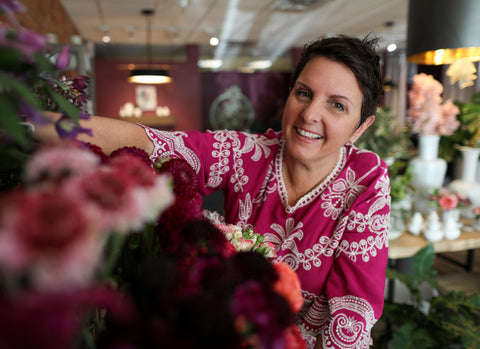 Theresa has been in the floral industry since 1985, and can figure out a solution to just about any floral dilemma. Working alongside Jessica since 2005, Theresa's love for her job can be seen in countless creations, including, but not limited to, the perfect wrist corsage (too many to count), beautiful bouquets and sculptural arrangements. Theresa's creative spirit doesn't end with flowers; her other ventures include painting & jewelry design.  She also keeps her co-workers fueled with mouthwatering sandwiches at lunchtime that are just as "pretty" as they are tasty. Away from the shop, you might find her spending time with her four daughters, hiking a mountain, or traveling the country by camper with her husband and dog, Moby.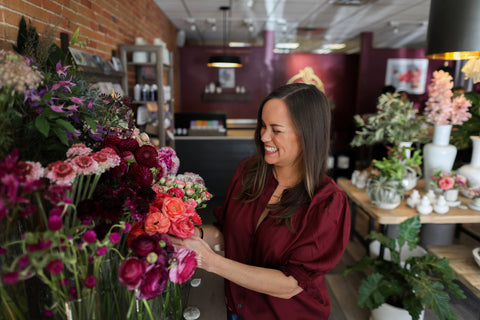 Stacey relishes the idea that her job is essentially to make people smile. Part of the team since 2009, Stacey's eye for color and her attention to detail allow for thoughtful & expressive floral designs. With a degree in Interior Design, Stacey spent several years in the design world before embracing floral design as a career. When not in the shop you'll find her working in the garden, exploring New England in the luxe camper van she built with her husband or contemplating their next project.
Lynn Steeves
Floral Designer & Plant Specialist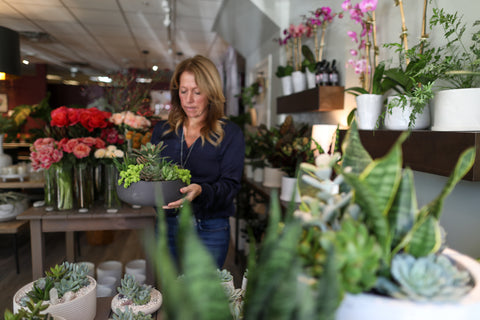 Lynn is a self taught curious plant designer with over 10 years experience. Living all over New England, she settled on the North Shore 30 years ago where she raised her two daughters. She started out making novelty vertical succulent gardens, which then evolved into working with clients to design, implement, and maintain interesting plant displays for their homes and businesses. Lynn loves a collaborative and creative environment so she fit right in when she joined the Cymbidium Team in February 2022. Outside the shop Lynn can be found at the beach, searching the greenhouse for the perfect plant, or spending quality time with family and friends.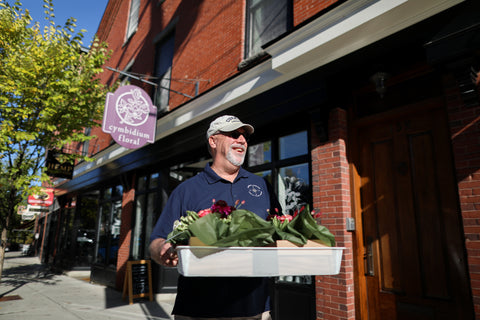 Bill Curran and his team of drivers at Curran Logistics have been spreading cheer around the Seacoast since 2005. Bill is well known amongst Cymbidium Floral customers for lengthy friendly chats if he finds a willing participant. When he's not out on the road, he's happy spending time out on the water with friends, making furniture and plant stands for Cymbidium, or taking on a home improvement project.